Alumni
Gamaralalage Disni Sanjeewani Gamlath
Graduation Year: September 2011 (Master Cause)
I am Disni Gamlath, and I am from Sri Lanka. I came to Japan as a Chemical Engineering graduate and joined the Environment Systems Department to follow my Master's study which was one of the best choices I have ever made. I really enjoyed being here as an international student and gained lots of knowledge and experiences to my life. I was able to follow my studies entirely in English in Environment Systems Department with my zero Japanese language ability and still enjoyed the student life to the fullest as same as a Japanese students. Playing soft ball and soccer in the annual departmental events were also unforgettable experiences for me and good chances to interact with other laboratory members. I think studying here is a great chance that you can ever have in your life time, so don't miss it.
---
Muhammad Firdaus ANUAR
Graduation Year: March 2012 (Master Cause)
After two years work experience as pipeline engineer in oil and gas industry, I decided to further my master's study in Japan to know more about the culture and to broaden my knowledge by life perspective. After selected to receive scholarship to study in Japan, I found out that Department of Environment Systems in Todai has a unique curriculum, integrating different field of study such as engineering and economy. Since I came from engineering background, I am interested to learn more about the economic side of engineering, especially concerning energy and environment. My research topic is about the long-term energy outlook for Asia Pacific region by implementation of carbon capture and storage (CCS) technology. I had received great help from professors and other students in my department in not just research life but also daily life as a foreign student in Japan. Undeniably, my time in Environment Systems is one of the most valuable life experiences I ever had.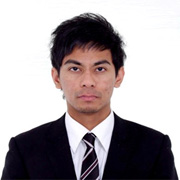 ---
---
Page Top