Education Programs
Education Program
Department of Environmental Systems provides "Environment Engineer Training Program and Environment Manager Training Program". One can get the certificate of each program by taking required credits which are specified by the department.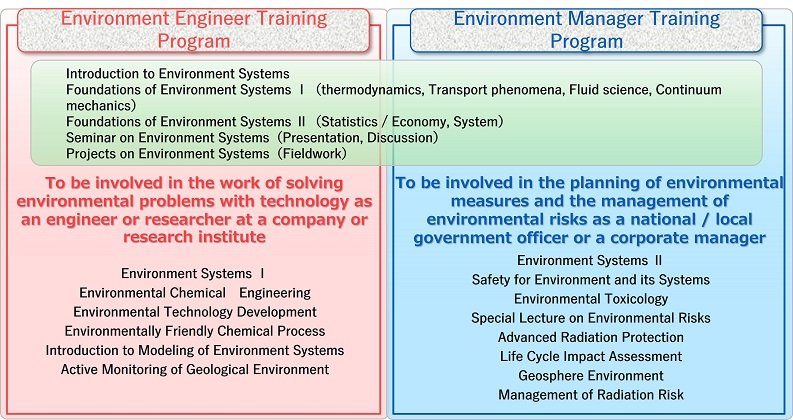 Fieldwork Exercise
Fieldwork Exercise is essential for an Environment Systems Studies. Our department emphasizes the Fieldwork Exercise as a fundamental part of our degree program, which introduces the basic observational, analytical and communicational skills associated with environment systems studies.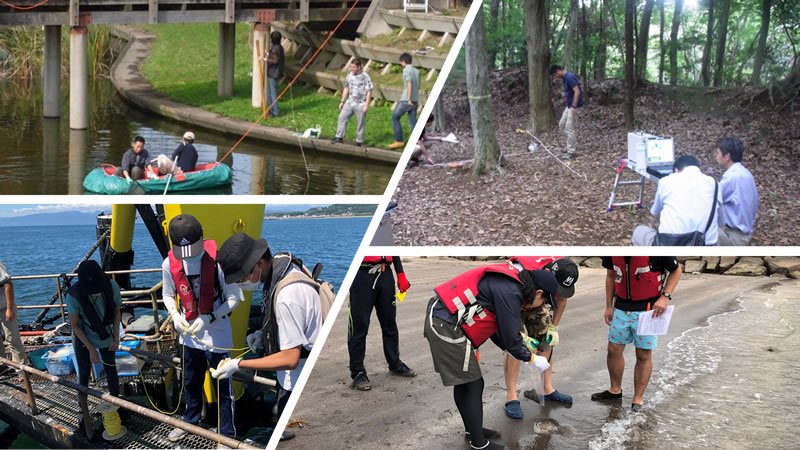 Fieldwork theme (examples of 2021)
Evaluation of renewable energy potential in Shinchi Town, Fukushima Prefecture
Survey of the distribution of asari clam in the park of the sea in Yokohama
Groundwater environment and land subsidence in coastal plains
Research Support Programs
Exchange Student Program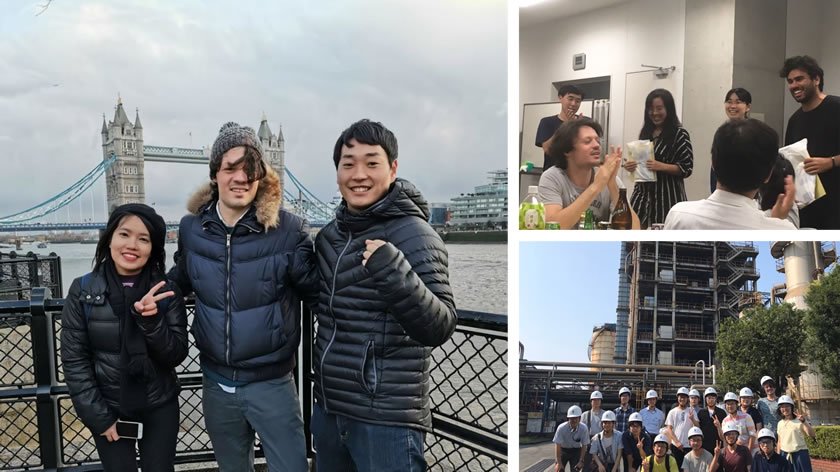 Department of Environment Systems provides an exchange student program between Department of Chemical Engineering and Chemical Technology, Imperial College London (ICL) and Graduate School of Frontier Sciences, The University of Tokyo (UT). In this program, first grade students in the master course will take classes at UT in a summer semester and at ICL in a winter semester. They can learn broad subjects of environmental problems such as environmental impact assessment, environmental technologies and environmental measure planning for understanding of orientation of environmental technologies, political decision process and public acceptance at different countries. This program addresses nurturing of environment engineers and managers who can assume international negotiation for environmental issues.
Information:
# Application time: April
# Requirements:
* Applicants must take a TOEFL examination (iBT, CBT or ITP(PBT)) in advance and get a passing score (i.e., required score for TOEFL). They should also inquire the required score to a faculty staff.
(Contact address: envsys_exam@edu.k.u-tokyo.ac.jp)
* Approval of a supervisor (applicants have to get his/her supervisor's approval before their application.)
* Admission criterion and decision: Oral interview and English ability (TOEFL score).
An interview will be held on end of April, and then the admission will be decided.
Exchange results (2009-2019)
Imperial College London ⇒ The University of Tokyo : 12 students
The University of Tokyo ⇒ Imperial College London : 7 students
* Canceled in 2020 due to COVID-19
The Doctoral Research Financial Support Program
The Department of Environment Systems has launched an initiative to help financially support PhD students in pursuit of their research goals. This program provides doctoral course students with the opportunity to develop a research proposal, which itself is an important and necessary skill for your future career as a researcher. Faculty members of the Department will evaluate the submitted proposals, and the applicants with the most promising proposals will be awarded some financial research support from the Department.
Information:
Eligibility*
Doctoral course students in the Department of Environment Systems
*JSPS-DC research support program recipients are ineligible.

Award amount
about 300,000 yen for each selected proposal
Number of Awards
about 3 proposals will be awarded financial support
Selection
Faculty members of the Department will evaluate all proposals, and select the most promising ones from among those that best meet the selection criteria.
Selection criteria

How clear and specific is the concept of the proposed research?
How clear and specific is the research objective(s)?
How well developed is the research plan?
How likely will the objective(s) be achieved according to the proposed research plan?
How likely will the research itself contribute to the progress of the field of environment systems?

All applicants will receive comments and suggestions from faculty proposal reviewers.
Academic Schedule
Spring semester
April

Guidance for new students
May

Doctoral pre-examining meeting, Doctoral midterm presentation
July - August

Projects on Environment Systems
August

Submission of master's thesis
August

Master's final presentation, Master's midterm presentation, Presentation of Projects on Environment Systems
Presentation of Projects on Environment Systems (will be posted to a future date)
Fall semester
October

Guidance for new students
November

Doctoral pre-examining meeting, Doctoral midterm presentation
February

Submission of master's thesis
February

Master's final presentation, Master's midterm presentation
March

Completion celemony
Lecture Information
Basics of Environment Systems
This department offers lectures on the basics of environment systems and basic subjects for learning the skills necessary to solve environmental problems.
Introduction to Environment Systems
Foundations of Environment SystemsⅠ(Thermodynamics, Transport phenomena, Fluid science, Continuum mechanics)
Foundations of Environment SystemsⅡ(Statistics / Economy, System)
Environment SystemsⅠ(Material Cycle and Environment among Atmosphere, Hydrosphere, Geosphere)
Environment SystemsⅡ(Energy society and environment, Social systems, Advanced technology)
Seminar on Environment Systems(Presentation, Discussion)
Projects on Environment Systems(Fieldwork)
Applications of Environment Systems
This department offers lectures on applications of environment systems for engaging in the work of solving environmental problems with technology as engineers and researchers of companies and research institutes, or for engaging in environmental policy planning and environmental risk management as national and local government officials and corporate managers.
Safety for Environment and its Systems / Environmental Chemical Engineering / Environmental Toxicology / Environmental Technology Development / Geosphere Environment / Life Cycle Impact Assessment / Introduction to Modeling of Environment Systems / Management of Radiation Risk / Advanced Radiation Protection / Environmentally Friendly Chemical Process / Active Monitoring of Geological Environment
Alumni
Jennifer CHIA Wee Fern (Air Liquide Global E&C Solution Japan Ltd.)
Graduation Year: March 2021 (Doctor Cause)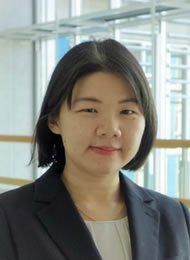 My research focused on improving the material value of non-recyclable PET bottles into char, a valuable precursor for activated carbon. I first realized the plastic crisis in my home country, Malaysia, which had become a dumpsite for non-recyclable plastic waste from various countries due to improper import regulation and lack of domestic recycling capabilities of the exporting countries. This became a motivation for me to pursue my doctorate degree in the Department of Environment Systems, the University of Tokyo. Enrolling in this department provided me the opportunity to learn from scientists specializing in various fields such as engineering, chemistry, environmental studies and social studies. I have met amazing mentors and comrades who are passionate in providing solutions to task for the realization of a sustainable society.
---
Muhammad Firdaus ANUAR
Graduation Year: March 2012 (Master Cause)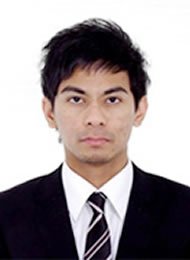 After two years work experience as pipeline engineer in oil and gas industry, I decided to further my master's study in Japan to know more about the culture and to broaden my knowledge by life perspective. After selected to receive scholarship to study in Japan, I found out that Department of Environment Systems in Todai has a unique curriculum, integrating different field of study such as engineering and economy. Since I came from engineering background, I am interested to learn more about the economic side of engineering, especially concerning energy and environment. My research topic is about the long-term energy outlook for Asia Pacific region by implementation of carbon capture and storage (CCS) technology. I had received great help from professors and other students in my department in not just research life but also daily life as a foreign student in Japan. Undeniably, my time in Environment Systems is one of the most valuable life experiences I ever had.